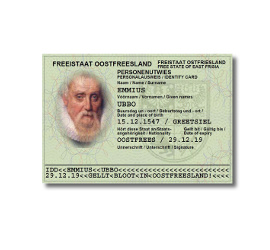 East Frisian identity card
One of the duties of the East Frisian embassy is the offering of East Frisian identity cards.
Each East Frisian is qualified to apply one and carry it wherever and whenever he or she wants to.
All others, please check the
Questionary releated Naturization
first.
Apply for a new East Frisian ID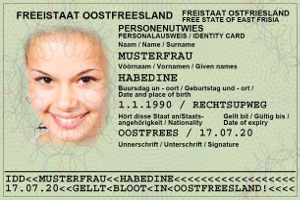 The East Frisian identity card will be delivered in form of a PDF file (Download Example ID). You can print the ID on any color printer, cut front and back side and glue both together. Best results are achieved if the ID is laminated or enveloped in a clear plastic folder.
A small fee of 4.99 € will be charged for the processing of the PDF file containing your personal East Frisian ID.
Remarks:
Please fill in all fields!
The nationality is "east frisian" for East Frisians - all others please fill in what you like.
For addresses in foreign countries, please fill in at least your street and place.